Sugg Named ECU Chief of Police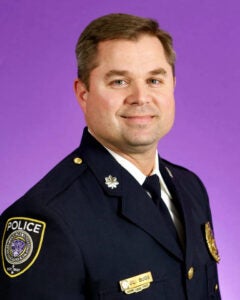 Current English Ph.D. candidate Jason Sugg has been appointed Chief of the ECU Police Department. Sugg's research focuses on police rhetorics as well as professional and organizational communication and community and cultural rhetorics. Sugg's latest publication is "Intersecting Rhetorical Velocity & Antiracism as Strategies for the Creation of University Crime Notifications under the Clery Act" in the Proceedings of the 2022 Computers & Writing Conference.
Sugg is a 24-year law enforcement veteran and has served as the ECUPD's deputy chief since 2013. He has also served as interim police chief at Elizabeth City State University and ECU.