Study Abroad
---
The Department of English offers a faculty-led summer study abroad in England. This program gives you an opportunity to immerse yourself in a new location while studying alongside other ECU students. If you are interested, please contact the Director of Undergraduate Studies in English. You may also find the College's study abroad opportunities and the University's Pirates Abroad opportunities helpful.
---
England (London)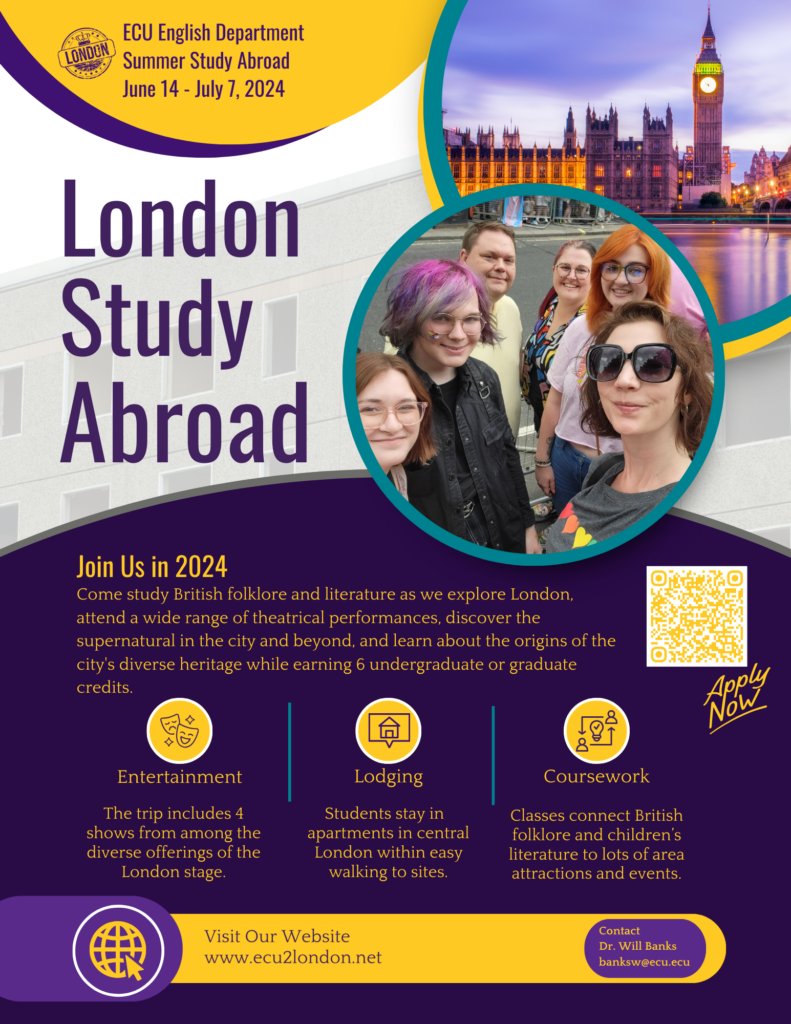 If you're interested in traveling to London, seeing the sights, and earning six undergraduate or graduate credits, this is the opportunity for you! You will wing your way to London, England for three weeks of studying the literature, art, design, culture, and folklore of one of the most vibrant, culturally rich cities/countries in the world.
Enrolling in two courses offered during Summer Session 2, you will complete coursework while also spending time exploring the bustling streets and picturesque parks of London proper. You may even choose to spend weekends in nearby Ireland, Scotland, Wales, France, or elsewhere in Europe.
Dr. Will Banks and Andrea Kitta have led the trip recently. If you have questions about London, he's the person to talk to! You can also find more information at PiratesAbroad.
Student Experiences
London was the best experience of my entire life. I always yearned for an adventure beyond the borders of the United States, and with this study abroad program, I got exactly what I had hoped for. I got to explore and immerse myself in an entirely new culture, learning their customs and slang while making new foreign friends in the process. The trip epitomized what learning should be: a fun experience. I learned so much in those 3 weeks, not just about course content, but about myself as a person. I also got to participate in a couple of once in a lifetime opportunities, like being the first girl to play in a British 5 a side soccer league or going to Harry Potter studios and fangirling over my favorite childhood series. My study abroad experience made me fall in love with a foreign country, and I can't wait to go back and visit or maybe even move there.
-Meghan Boop (2013)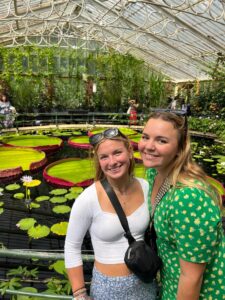 The time that I spent in London was unforgettable. I got to stay in a flat, walk to the neighborhood tube station and really get the experience of being a local in such an amazing city. Will, Rick, and Brent put their heart and soul into designing the classes and activities to go together and incorporate all of the wonderful sites around London. They also gradually gave us less and less planned activities the longer that we were there which gave us a chance to learn and explore the city the way we wanted to. I learned so much about myself and all of the things that I can go and do in my time in London. On a free weekend, a few of the students and I even went on a quick trip to Paris! I made everlasting friendships with the students that came with us and many Londoners in my time there. I constantly catch myself reminiscing on my time there as I'm drinking my morning tea. I now consider London my second home and I can't wait to return to another flat above those bustling streets that I love so much.
-Casey Olevsky (2013)