Kirstin Squint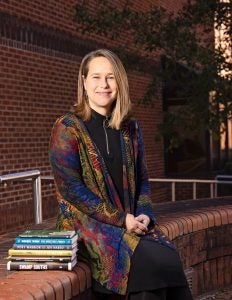 ---
About
Kirstin Squint is an Associate Professor of English, specializing in Native American literatures. She held the Whichard Visiting Distinguished Professorship in the Humanities in English and Gender Studies at ECU (2019-2022) and previously taught at High Point University, Southern University-Baton Rouge, Louisiana State University, Coconino Community College, and Newcomb High School (Navajo Nation). She has published and lectured on Native American literatures and cultures and U.S. multi-ethnic literatures, particularly in the Southeast.
Education
BA, Eureka College,
MA, Miami University
PhD, Louisiana State University
Research Interests
Native American and Indigenous literatures and cultures
Multi-ethnic literatures
Women's and gender studies
Southern literature
Ecocriticism
Courses Taught
ENGL 6350: Studies in Native American Literatures
ENGL 6330: Studies in Latinx Literatures
ENGL 4340: Ethnic American Literature
GENS 3500/ENGL 4530: Intersectional Feminisms: Social Issues in Contemporary African American and Native American Women's Writing
ENGL 3250: Native American Literatures
GENS 2400: Introduction to Gender Studies
Selected Publications and Presentations
2023 (Forthcoming) "Indigenous Removal and (Un)Recognition in the Plantationocene: Documenting Louisiana's Rising Waters." Global South Journal.
2022 Conversations with LeAnne Howe. Editor, UP of Mississippi.
2021 "Many Identities, One Voice: an Interview with Cherokee Novelist Annette Saunooke Clapsaddle." North Carolina Literary Review. 30: 164-179.
2020 Zoom Interview with Tommy Orange, George Mason University's Fall for the Book Festival.
2020 Swamp Souths: Literary and Cultural Ecologies. Co-editor with Eric Gary Anderson, Taylor Hagood, and Anthony Wilson, Louisiana State UP.
2019 "Kentucky, Coming and Going." Appalachian Reckoning: a Region Responds to Hillbilly Elegy. Eds. Anthony Harkins and Meredith McCarroll, West Virginia UP.
2018 LeAnne Howe at the Intersections of Southern and Native American Literature. Louisiana State UP.
2018 "Monique Verdin's Louisiana Love." American Indian Quarterly. 42.1: 117-133.
2018 Keynote Address. "From Conversation to Publication and All Points in Between." North Carolina Honors Association Conference.
Awards
2020 American Book Award for criticism, Appalachian Reckoning: A Region Responds to Hillbilly Elegy ("Kentucky, Coming and Going" chapter).
2019 Weatherford Award for best nonfiction book about Appalachia, Appalachian Reckoning: A Region Responds to Hillbilly Elegy, ("Kentucky, Coming and Going" chapter).
2018 Ruth Ridenhour Scholarly and Professional Achievement Award, High Point University.
2018 Excellence in Faculty Collaboration Award, Office of Multicultural Affairs, High Point University.